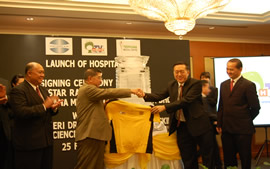 Digistar Corporation Aims For RM20 Mln Revenue From Hospital IPTV System KUALA LUMPUR, Feb 25 (Bernama) -- Digistar Corporation Bhd aims to garner RM20 million in revenue from its Hospital Internet Protocol Television Systems (Hospital IPTV), over the next two to three years, as demand for this network system is increasing.

The Hospital IPTV system contributes about RM5 million to the group's annual revenue.

Managing Director Datuk Lee Wah Chong said the company believes more hospitals would adopt the system given its high viewing rate of around 60-80 per cent by patients, compared to that of hotel guests' at less than five per cent.

"We have already received letters of intent to offer this service at six more hospitals, including government hospitals, and are confident of many more following suit," he told reporters after the signing ceremony between Digistar Rauland MSC Sdn Bhd and Tropicana Medical Centre (M) Sdn Bhd, here on Thursday.

Digistar Rauland has been approved and licensed to operate the Hospital IPTV by the Malaysian Communications and Multimedia Commission.

The company will provide IPTV solutions to the Tropicana Medical Centre, bringing the number of private hospitals using its system, to 10.

Other hospitals utilising it include the National Heart Institute, KPJ Johor Specialist Hospital, Seremban Specialist Hospital, Assunta Hospital and Darul Ehsan Medical Centre.

"We provide 20 channels of programmes in the Hospital IPTV system and health content is a key aspect. Our outstanding features include meal ordering, relaxation channels, video on demand, e-greetings and e-commerce," Lee explained.

He also said that the company's innovative IPTV system would boost the health tourism industry in Malaysia.

During the first half of 2009, the country received 165,095 medical tourists who contributed to revenue of RM142.3 million.

Minister of Science, Technology and Innovation Datuk Seri Dr Maximus Johnity Ongkili, who officiated the signing ceremony, said the healthcare industry has become increasingly competitive as more hospitals strived to become the health facility of choice.

He also highlighted that hospitals around the country are beginning to transform themselves into a cosier setting, that had more in common with an upscale hotel ambience.

"There is a need for services like healthcare TV channels to provide patient education in hospitals, given the shortage of medical personnel to counsel them on treatment options, recovery and other healthcare issues during their stay," he said.